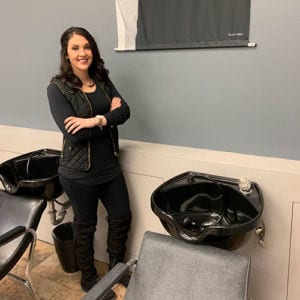 Favorite food: Pizza or pasta – give me the carbs!
Any quirks: I have to have a clean kitchen! I can have a messy house, but my kitchen is spotless.
Bucket list: Skydiving and swimming with dolphins
What would your co-workers or students say is your favorite word or phrase: "Let's rock and roll"
Why did you choose cosmetology? It just made sense. It's something I've always done playing with my own hair and makeup. I love beauty and making people feel good about themselves.
Favorite class as a student: Facials and makeup
Fond memory as a student: I loved my clients and the relationships I built with other students. We are still in contact today.
Best piece of advice given by someone in the beauty industry: "Never stop learning!"
Favorite thing to teach as an instructor: Fingerwaves, nail diseases & disorders, makeup, color and new techniques
Products you can't live without: Kenra Thermal Spray and Volume 25 Spray, Redken Antisnap, Aquage Silkening Oil
Why choose Faust Institute: No students left behind. If you need something, we take the time and focus on you. We make sure you feel ready and confident to work on clients and to go out in the real world.